Content adapted from TELO content
Nucleic acids are the fourth macronutrient we will examine closely. Nucleic acids are most commonly associated with DNA, storing genetic information and heredity. But there's much more to this macronutrient. Whereas carbohydrates and lipids are energy sources, nucleic acids are the form of chemical energy used in cells. Whereas proteins perform the majority of reactions in cells, nucleic acids perform important reactions, too. Nucleic acids are used in ways that are similar to other macronutrients.
Energy in Food Chains
When we think of calories, the energy in food, carbohydrates and lipids come to mind. Each of these is like a large deposit of energy to our cells. The amount of this energy generated is often too great for any one particular biological process. Instead, cells deal with smaller packages of energy. Just like in a coffee shop, individual sugar packets are more convenient than a large bag of sugar. This smaller package of energy comes in the form of a nucleic acid called adenosine triphosphate, or for short.
A large molecule made of a pentagonal shaped sugar ring called ribose. From the leftmost carbon in the ring is a bond to the fifth carbon of ribose. That carbon is then connected to three phosphate groups in a row. The rightmost carbon in the ring is a bond to a structure called adenine. Adenine is a six atom ring fused to a five atom ring. The six atom ring: the top atom is a carbon that is bonded above to an amino group; moving clockwise in the ring is a double bond to a nitrogen; moving clockwise is a single bond to carbon that is also bonded to hydrogen; moving clockwise is a double bond to nitrogen; moving clockwise is a single bond to carbon; moving clockwise is a double bond to carbon; moving clockwise in the ring is a single bond back to the top carbon. The five carbon ring includes the carbon-carbon double bond of the six-atom ring; moving clockwise from the bottom carbon of the carbon-carbon double bond is a nitrogen that is bonded to hydrogen; moving clockwise is a single bond to carbon that is also bonded to hydrogen; moving clockwise is a double bond to nitrogen; moving clockwise is a single bond back to the top carbon of the carbon-carbon double bond. The connection to the sugar ring is to the bottom nitrogen in the 5-carbon ring of adenine.
In autotrophs , like plants, sunlight energy is captured first as ATP.  Most of this energy is used by the autotroph in its daily biological processes, such as growing new tissue like cellulose or storing energy in the form of amylose or fatty acids. As matter is passed to heterotrophs in the next trophic level in the food chain only about 5-20 % of the original energy the autotroph received is passed on. In the consumers, enzymes convert the energy consumed into ATP. 
In nature, populations are constantly changing. The number of individuals can increase or decrease. The environmental conditions can improve or worsen. How organisms interact with each other can be beneficial, neutral or deleterious.  The population density  can become more dense or less. Yet, on average, viable food chains share similar characteristics. These food chains can be described in the form of ecological pyramids.
Take a moment to write some thoughts:
How does energy move through food systems?
Choose one ecological pyramid from the picture. Describe the relative pattern in the pyramid. Search for an explanation for this pattern. Also, see if you can find pictures that show how these organisms interact. Share your description, pictures and explanation with the class. If you used internet or paper sources, cite them as you share your work.  We will be discussing these tomorrow in class.
Follow up ideas…
Energy 1. Describe at least three factors that could cause a population to change.
Nucleic Acid Structures
*Look for similarities and differences between ATP and other nucleic acids
ATP is an example of a nucleotide the monomer of nucleic acids. Out of all the macronutrients, the monomer of nucleic acids is the most complex: each nucleotide is a monomer composed of three parts: one or more phosphate functional groups, a 5-carbon sugar, and a nitrogenous base. 
Building Nucleotides
Please navigate to the Dallas Learning Cloud and try out the Building Nucleotides activity.
here are five common nitrogenous bases: guanine, adenine, cytosine, thymine and uracil. Two of the nitrogenous bases are purines and three are pyrimidines.  ATP is made of the purine adenine. Similar to the R-group side chain of amino acids, these nitrogenous bases give nucleic acids important properties. 
Like proteins, polymer forms of nucleic acids can make 3D structures as a result of intermolecular forces of attraction. Unlike proteins, though, nucleic acids have more predictable rules for which nitrogenous bases are attracted to each other. Let's explore the sizes of different combinations of nitrogenous bases by building those molecules.
How does understanding change?
Understanding Question. What combinations of pairs of nitrogenous bases add up to make a similar length?
It was discovered that nitrogenous bases pair up in molecules like DNA. We can describe these pairing nitrogenous bases as complementary.  In 1950, Erwin Chargaff studied the composition of the four nucleotides found in DNA. In Chargaff's time, it was hypothesized that all four nucleotides combined together to make a "tetranucleotide", a structure of each nucleotide bonded together in a ring. In order for this to happen there would need to be equal amounts of each nucleotide.
Some results of Chargaff's study are shown below.  Amounts for each nucleotide are shown as a percent of the total amount of nucleotides. Note that Pu stands for purine, and Py stands for pyrimidine.
Organism
Tissue

Adenine

(Pu)

Thymine

(Py)

Guanine

(Pu)

Cytosine

(Py)

A + T
G + C
T + C
A + G
Yeast
 
31.3
32.9
18.7
17.1
1.79
1.00
Sea Urchin
sperm
32.8
32.1
17.7
18.4
1.85
0.99
Herring
sperm
27.8
27.5
22.2
22.6
1.23
1.00
Human
sperm
30.7
31.2
19.3
18.8
1.62
1.00
Check your understanding of the results of Chargaff's experiment – Take the Quiz
How does understanding change?
As you saw earlier, nucleotides including ATP are made of a phosphate, 5-carbon sugar and a nitrogenous base. The 5-carbon sugar molecule comes in one of two varieties: ribose and deoxyribose.
Deoxyribose is used to make polymers of deoxyribonucleotides, also called DNA. Ribose, on the other hand is used to make polymers of ribonucleotides, also called RNA. Ribose is also used to make monomers, like ATP, and dinucleotides that perform other functions for the cell.
In protein, amino acids are connected between their amino group and carboxyl group to make a peptide bond. Similarly, nucleotides are connected between their phosphate group and a hydroxyl group on the 5-carbon sugar to make a phosphodiester bond.
Notice that the phosphate between the two nucleotides connects the 3rd carbon on the sugar with the 5th carbon on the next sugar. In DNA and RNA, nucleotides always connect this way. In other nucleic acids, like dinucleotides, cyclic AMP (cAMP ), and ATP, the phosphate is connected differently to the ribose sugar.
Look at and take note of these four structures – NAD+, NADP+, FAD, and CoA.  How are they similar or different?
Before we turn our attention to how various nucleic acids are used, it's important that we explore the structure of the nucleic acid polymers: DNA and RNA. Again, there is a similarity to proteins in that the primary structure is folded up to make a functional shape.
First, it's important to realize that both DNA and RNA can exist as either single strands of one polymer or double strands made of two polymers. Single stranded nucleic acids can fold up on themselves to make functional shapes.
When two strands come together, though, they always line up and connect with one strand inverted compared to the other. This orientation is called antiparallel.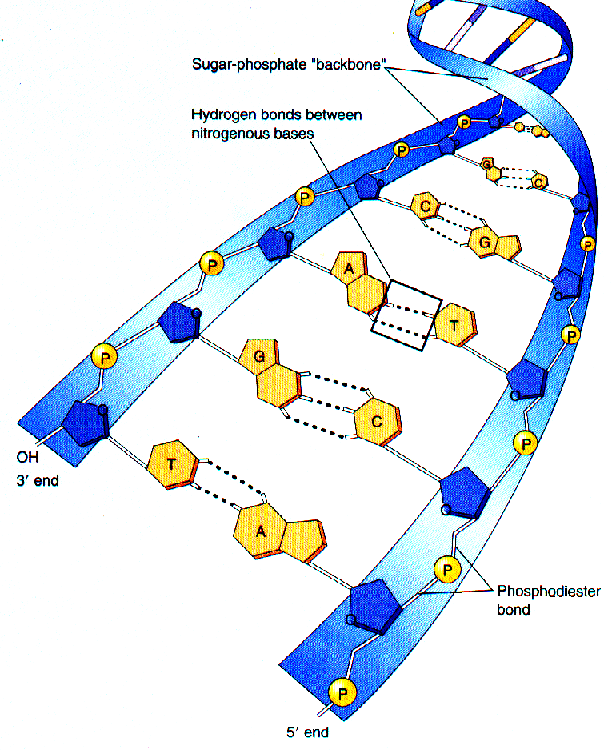 Second, whether DNA or RNA stay as single strands or pair up in double strands depends on a variety of factors.  Watch the following video to learn more.